Restore Your Oral Health With Gum Disease Treatment
Don't mess around with gum disease. Left untreated, it can send your oral health on a downward spiral and lead to tooth loss. My Dentist in Plano can help, however. Dr. Dickson and our team take Plano gum disease treatment seriously because we want all of our patients to enjoy the best smile possible. Our skilled care can help you:
Stop gum disease and protect you against smile damage.
Avoid tooth loss caused by uncontrolled gum disease.
Smile with more confidence knowing that your gums and teeth look attractive.
Improve the quality of your breath and avoid embarrassing social interactions.
Get your gums back into shape! Call us today to schedule an exam. We're located at 6545 Preston Road, Ste. 100 – across the road from Camden Legacy Park Apartments.
Renew Your Smile With Expert Gum Disease Therapy
Gum disease progresses through stages. Bacteria in your mouth feed on sugar and create plaque that clings to your teeth and gums. Over time, plaque can become tartar and eventually form pockets of infection below the gumline. Symptoms of gum disease include bright red and tender gums, although you can have early-stage gum disease without any visible signs.
That's why it's so important to visit My Dentist in Plano at least twice a year for a dental exam and teeth cleaning. Regular checkups help us catch and treat gum disease early on for best results. If you need treatment for gum disease, your care could include any or all of these therapies:
Local Antibiotic Treatment – We'll administer antibiotic medication to your gums, usually in the form of a special mouthwash. It will eliminate harmful bacteria so your gums can begin to heal.
Scaling & Root Planing – This treatment is also referred to as "deep cleaning." Using precision tools and a gentle touch, we'll remove built-up tartar and bacteria from your teeth and roots, then smooth the roots to help prevent reinfection.
Laser Pocket Decontamination – A special low-power dental laser targets pockets of bacteria, killing germs and sealing your gums without any incisions or stitches.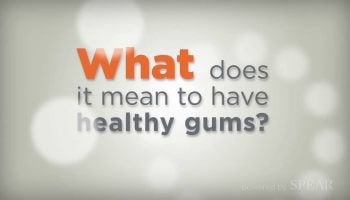 Don't risk your precious smile! Call us today at 972-737-7039 to set up an appointment for gum disease treatment in Plano.
Reviews
"Dear Dr. Dickson and Staff, Thank you for the outstanding dental care for the past nine years. Whether it has been a scheduled maintenance, restorative procedure, or aesthetic preference, I am always reminded of how lucky I am to have found such wonderful individuals for all my dental needs. It is your dedication to detail and caring patient relationships that makes my choice for My Dentist in Plano the perfect choice for my individual care as well as our family dentist without reservation. With every appointment, I am met with caring and professional staff. I enjoy the personal attention that is shown to both myself and family members at each appointment. My children are happy to visit the dentist knowing they will be taken great care of by you and your staff. With My Sincerest Thanks, C.D."
- C.D. /
Office Visit /
Sep 30, 2020
"Dear Dr. Dickson, Thank you from the bottom of my heart for the amazing results with my new smile. I came to you at the suggestion of one of your happy patients, also a work associate of mine. I had been given a recommended plan and quote from another dentist and wanted to get a second opinion. I remember the other plan was a little less expensive and would have provided quicker results. But I also remember you advised me that the results of the other plan could put me in a dental chair regularly for major procedures for the rest of my life. As soon as I walked into your office, I felt comfortable. The care and attention of your staff is exemplary. You put together an entire team of an orthodontist and gum surgeon to combine with your dental expertise. At one time, there was even discussion I may need a jaw surgeon to perform major surgery. Thankfully, in the end the jaw surgery was not necessary. You were able to accomplish the results with only minor gum surgery. The process took a couple of years, but I am thrilled with the results. Being in sales, I find that one of my greatest assets is my smile. My smile has given me greater confidence and helped me build success in my career. I am often complimented on my wonderful smile. My boyfriend says it's his favorite thing to see in the whole world! You and your team have literally changed my life. Thank you!"
- M.B. /
Office Visit /
Sep 30, 2020
"I have been seeing Dr. Dickson for about 18 months now, after a 10-year leave of absence from visiting ANY dentist. My story and recommendation is long because the backstory is so important to why I recommend Dr. Dickson. To say I was frightened of the "horrendous dental chair" is an understatement. When I was 6 months old, I had scarlet fever and chicken pox at the same time. The treatment for these caused my enamel not to develop; that strong substance that protects your pearly whites, I have none. Dental work began for me as soon as my permanent teeth started coming in. My first cavity was drilled at the age of 5, with little to no numbing. From there, about 20 years in and out of the dentist chairs, every 6 months some new tooth to drill or root canal to be had. I have had veneers two prior times and my last root canal was about 10 years ago. After that, I just quit going. My memories are vivid: pain, discomfort, embarrassment, frustration … I then met Dr. Dickson through mutual friends. After talking with his wife first, she assured me I could do this and Dr. Dickson and his team would help me. First and foremost, his entire staff is AMAZING. They were patient with me as I, full of fear, walked in the office for the first time. The sound of any drills really brings me to my edge, so Lin, ever so quickly, pulled me from the waiting room and hollered to the staff, "Let's get her comfortable, NOW!" I was sedated for my first cleaning and assessment of what was sure to be a huge project. When I went back for my consult, they made sure to take me quickly to where I couldn't hear work being done, and Lin and I went over the whole plan. From there, Dr. Dickson restored my teeth in three sessions, all under sedation. He checked on me the evening after each session. The restoration has been life-changing. I have no discomfort, my teeth look natural, I smile fully and get so many compliments. I can really see it in photos!!! More importantly, together, we have pretty much conquered my fear. I have successfully followed up with two more cleanings on schedule, with NO cavities, and have graduated to not needing sedation for cleanings. Suzie is my hygienist and she quickly gets me in my chair and the nitrous started to ease my anxiety, and she lovingly calls it my "cocktail hour." She always checks with me throughout the cleaning to see where my anxiety level is at. She and Dr. Dickson are kind as we talk through what I need to work on to keep my teeth healthy and beautiful. I have never felt negative about myself or reprimanded walking out of that office, which was so common with dentists before. I walked out on Wednesday after my cleaning and shed some tears. Battling my poor teeth health for so many years, Dr. Dickson and his colleagues have truly helped me make a transition that I never could have done on my own! Thanks Dr. D and staff!"
- R.C. /
Office Visit /
Sep 30, 2020
"I've been away at college and grad school for the past six years, but always drive back to Plano to get my teeth cleaned. Thank you so much, Dr. Dickson, Susie, Terry, and all the amazing staff!"
- K.S. /
Google /
Aug 16, 2020
"Great staff.... They really calm down your anxiety....."
- R.V. /
Google /
May 30, 2020
Previous
Next
Related Procedures
Related Post