Preventive Dentistry Tips For Autumn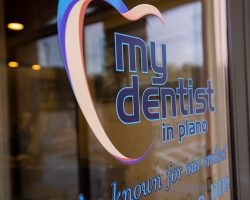 With summer only a hazy memory, there are likely far more rigid demands on your time on account of the academic year, fall sports, and so forth. We understand that, with all that you have going on right now, you may not be thinking about a dental exam and professional teeth cleaning for your family. That's why we are utilizing today's post to deliver some reminders of why you ought to schedule one sooner than later. Keep reading, and then be sure to call us today to get your family back in for your regular preventive care at our Plano, TX dentist's office.
Smiling Through Every Stage Of Life
There are plenty of good reasons for coming to see Dr. Dickson every 3-6 months. For one thing, just knowing you have a fresh mouth, nice breath, and clean, beautiful smile should give your confidence a big boost. Your kids will really benefit from that kind of feeling as they embark on the 2019-2020 school year. Plus, since the health of your mouth is connected to the total health of your body, by making sure that your child's teeth and gums are in top-notch condition, you might just be saving them from other troubles down the road. Lastly, if your child is at an age where they are transitioning from baby teeth to adult teeth, it is crucial that we are around to watch for any emerging causes for concern, and to steer you toward something like an orthodontic solution if it becomes necessary.
Oral Health Care Starts At Home
There will be plenty to do between your visits to My Dentist in Plano. Everyone in your household should be brushing their teeth for at least two minutes, twice each day. Our friends at the ADA recommend that everyone floss just before the final brushing of the day. If you want to be an all-star, you can find an age-appropriate mouthwash to rinse with as well. Home hygiene is key, but it's not all that is required if you want to keep your child smiling through every stage of life. Those regular dental appointments that we already alluded to are a must as well. That's because we'll be able to eradicate all the dangerous food particles and plaque that linger even after your best efforts with a brush and with dental floss. Additionally, we'll be able to screen for gum disease, oral cancer, and more. And we can offer extra prevention in the form of fluoride treatments and dental sealants, for anyone that's interested!
Call To Make Your Autumn Appointment
We hope you have been inspired to take the next step toward a healthier smile. Don't delay, make plans now to visit Dr. Dickson at our Plano, TX dentist's office today. All you have to do is fill out our online form to schedule an easy preventive dentistry appointment with our team. Keep in mind that dental insurance seldom rolls over to the next year, so you will want to make sure you are taking full advantage of what you have coming. We want you to use it, not lose it!