Give Yourself the Gift of Invisalign In Plano TX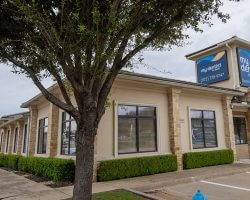 At My Dentist in Plano, we believe it's never too late to change your smile for the better. Whether you are the parent of a teenager who needs to straighten their teeth for the first time, or an adult who has put up with crooked, crowded, and gapped teeth for far too long, Dr. Dickson and our team can help get your smile to where you want it to go with the forward-looking Invisalign treatment system.
Although this amazing aligner therapy has been winning over patients for the last 20 years, right now is the best time to get in on the action because we are currently rolling out our Invisalign Year-End Extravaganza in which any patients beginning Invisalign treatment prior to December 31, 2019 can save BIG. Clear aligners can start as low as $930 and with payments as low as $39.00 month (same as cash/interest-free financing!!) and even better for you, this special offer is valid in conjunction with our free orthodontic consultation. Keep reading to hear more about why you should participate in this incredible program, and then call us today to see how you can give yourself the gift of Invisalign this holiday season.
Getting Straighter Teeth Without Discomfort
We're not going to lie to you, metal braces have been proven to be great for just about any orthodontic problem. However, they aren't usually comfortable to wear. Having a maze of metal brackets and wires and special bands in your mouth can be awkward and painful, especially when they scratch against your cheeks or break. Getting monthly adjustments, which are required for traditional braces, won't be much fun either. Dr. Dickson knows you shouldn't have to deal with any discomfort that isn't absolutely necessary. That's why you should talk to us about a more comfortable way to get the smile you deserve: Invisalign.
Undergoing Treatment Discreetly
Let's face it, even though they get the job done in the end, metal braces are distracting to your appearance along the way, and they can make you look immature. Many of our patients choose Invisalign for this reason. Usually, no one will ever know you're wearing "braces" because the aligners are clear. They'll do their work, gradually straightening your teeth while showing others only an increasingly better smile. You can meet clients, give presentations, or even spend an evening with your friends and loved ones, without feeling self-conscious about your look.
Eating The Foods You Love
Wearing metal braces can disrupt your normal eating patterns. In most cases, you will have to change your diet. You can't eat apples well, popcorn is completely off limits, and food gets stuck in your teeth even if it's on the "OK to eat" list. Invisalign aligners won't create any such problems since they are removable. They can come out so you can eat what you've always eaten. And you don't have to get embarrassed about food staying in your teeth until you can brush them or use little orthodontic tools to get it out.
Finishing Up Fast
We know older teens and adults are busy. They have demands on their time and want to be inconvenienced as little as possible. That's why the thought of wearing conventional braces for 2-3 long years is off-putting to so many people with orthodontic issues. By contrast, for many of our patients, Invisalign treatment can be completed in just 12 months. The average time is usually 12 to 18 months, though some milder cases can be finished sooner.
Giving Yourself A Gift
Ready to save money while achieving your straight, confident smile with Invisalign? To explore Plano, TX orthodontics, call us today to set up your free consultation and ask about our Invisalign Year-End Extravaganza. You can also request your visit with Dr. Dickson online. This year, give yourself the best gift ever!