Discover The Gift Of Invisalign In Plano TX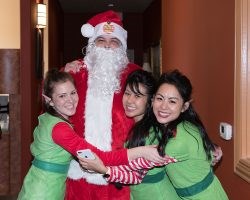 The team at My Dentist in Plano is currently caught up in the holiday season and we want to provide you with a life-changing gift that you will cherish for years to come: an orthodontic overhaul with clear aligners. So, if you are the parent of a teen who would like to straighten things out with their smile, or an adult patient who has grown tired of living with crooked, crowded, and gapped teeth over the years, Dr. Dickson is ready to introduce you to the Invisalign method.
Here's where we make it really special, though: this clear aligner therapy can be requested as part of our Invisalign Year-End Extravaganza in which any patients beginning Invisalign treatment prior to December 31, 2019 can save plenty of green while boosting the appearance of their pearly whites. You see, with us, clear aligners can start as low as $930 and with payments as low as $39.00 month (same as cash/interest-free financing!!) and even better for you, this special offer is totally valid in conjunction with our free orthodontic consultation. Read on for more about Invisalign, then all us today to see how you can receive the gift of a first-class orthodontic treatment before the New Year gets underway.
Doing It The Easy Way
Metal braces are a tried and true way to tackle pretty much any orthodontic problems. Still, they aren't comfortable. All those metal brackets and wires and special bands can feel weird and inflict pain, particularly when they scratch against your soft tissues. Going to the orthodontist's office for those monthly adjustments that are required for regular braces, will suck a lot of time away from your already busy schedule. Worse than that, they, too, can be painful! Dr. Dickson understands that you would want to sidestep any discomfort if at all possible. That's why you should talk to us right away about a better way to get the smile you've been dreaming of for far too many holidays: Invisalign.
Flying Under The Radar
Even though they work really well, metal braces actually make your smile look less attractive while they are doing the heavy lifting. Plus, if you are well beyond your teen years, they can make you look less like a professional. We've been told by many of our patients that they opted for Invisalign for this very reason. The best part is that no one will ever know what you're up to because the aligners are clear. They'll do the job of steadily straightening out your smile without drawing any unwanted attention to your mouth. You can go about your business without feeling self-conscious about your appearance.
Maintaining Your Regular Diet
If you have metal braces on your teeth for 2-3 long years, this can really upset your regular food preferences. Usually, you will have to end up altering your diet. For example you can't eat apples well, popcorn is completely off limits, and food often gets stuck in your teeth even if it's on the approved list. You will have to carry around special tools to eradicate the trapped food particles. Invisalign aligners, by contrast, won't disrupt your life that way since they are removable. They can come out so you can eat what you love to eat, whenever you want to eat it.
Wrapping Up Quickly
In this day and age, teens and adults are all busy. They have places to go and people to see, all the time. That's why the thought of wearing old-school braces for the several years it would take to improve things scares so many people with orthodontic issues away from pursuing treatment. Luckily, for many of our patients, Invisalign treatment can be completed in only about 12 months. The average time is usually 12 to 18 months, though some milder cases can be finished even sooner. You won't know until you come in for a consultation. So, why not do that now?
Calling For The Gift You Really Want
If you have been inspired to save time and money while working toward your straighter, more confident smile, it's time to get going with Invisalign. To begin your journey with Plano, TX orthodontics, call us today to set up your free consultation and be sure to ask about our Invisalign Year-End Extravaganza. You can also request your visit with Dr. Dickson online. This year, give yourself the gift you really want.