Can You Just Wear Invisalign at Night?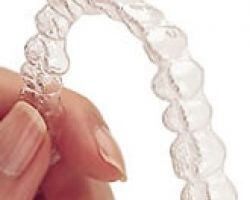 Invisalign is the latest breakthrough in orthodontics utilizing clear aligners to slowly move your bite into optimal position. Unlike braces which have to be attached to your dentition for the whole span of the treatment, you will be advised to remove your aligners when you eat and if you plan to drink highly pigmented beverages that may stain your orthodontic appliance. The aligners have to be worn for at least 20 hours a day or the treatment will not succeed.
Your dentist will advise you to wear your aligners as prescribed to obtain the maximum effect. Just like braces, Invisalign slowly moves the teeth in an effort to correct malocclusions that range from simple to severe. The duration of treatment will vary based on the complexity of the case.
Invisalign is an easy and aesthetically pleasing way to improve your bite. Since the aligners are made of clear material, you need not worry about unsightly brackets, rubber and metals. The average number of aligners used will vary from 18 to 25 sets. Keep in mind that more severe cases should expect a longer span of treatment.
Since the treatment is continuous and gentle, many people claim that they notice the effects of Invisalign by the 8th to 12th tray. If you would like to see what the finished product will look like, your dentist has software wherein you can see how your bite will look if you wear your appliance religiously. This software also allows the dentist to review the treatment plan and even request for changes if needed.
To achieve the best results in the shortest span of time, it is best to follow your dentist's instructions and wear your aligners for at least the minimum number of hours required each day.
To learn more about Invisalign and to determine if you are a candidate, contact our office serving Plano TX today.