Braces Care for Teens in Plano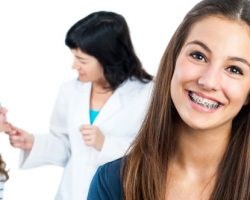 Your invisible braces are now on your teeth — and whether you like how they look or not, one thing you can look forward to is a gorgeous and perfectly straight new smile once they come off. But part of having successful treatment with braces and avoiding cavities and other problems is learning how to properly care for them and your teeth while they're on. If you have any questions about your braces and how to care for them, we are happy to answer. Call My Dentist in Plano, TX today or get in touch with our online form.
Brushing and Flossing with Braces
Let's be clear: brushing and flossing well is always important. But when you have braces, good oral hygiene is even more critical. Bits of food can get trapped between the wires and brackets and your teeth, causing bacteria to grow and plaque and tartar to form. Over time, this can cause all sorts of problems, including halitosis (bad breath), gum disease, cavities, and even ugly marks on your teeth!
Brush using a soft-bristled toothbrush and fluoride toothpaste. Gently but thoroughly brush your entire mouth: around all parts of your braces and every surface of your teeth, your tongue, roof of the mouth, and even the gums.
If at all possible, brush after every time you eat — meal or snack. If this is not possible, at least rinse your mouth thoroughly with water after every time you eat.
A tool called an interproximal can help you remove plaque that's hard to reach due to your braces.
Braces tend to cause excess wear-and-tear on toothbrushes. Replace your toothbrush whenever it starts to look frayed.
You should thoroughly floss at least once a day. A floss threader can help you get underneath the wires. When you get your braces, our staff will walk you through the proper method for flossing.
Inspect your teeth and braces after brushing or flossing, to make sure they look shiny and clean.
Foods to Skip with Braces
The wires and brackets on your braces are quite delicate, which unfortunately means you'll have to avoid certain foods during the course of your treatment — generally anything that's hard, sticky, or chewy. But don't worry, your sacrifice will be rewarded with a beautiful smile and better oral health. And once your braces come off, you can eat popcorn to your heart's content.
While your braces are on, the following should be off limits:
Gum
Hard candy
Chewy and gummy candy
Popcorn
Chewy breads: pizza crust, bagels, etc.
Hard vegetables and fruits
Crunchy snacks like pretzels, crackers, and chips
You don't have to eliminate sweets altogether — everyone deserves a treat now and then — but do your best to minimize your consumption of sweets and sugary drinks like soda, as they coat your teeth and braces with a film of sugar that's very hard to remove completely.
Congratulations on your new braces! With good care, your teeth should not only be straight when we remove them, but healthy and free of decay. To get in touch with our Plano, TX office, fill out our online form or call us today.