A Clear Aligners Summer Promotion In Plano, TX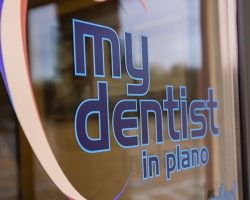 If you don't have major bite complications, and you simply want to straighten out those embarrassingly crooked, crowded or gapped teeth you've been putting up with for far too long, Invisalign might be a great option for you. This clear aligners system is designed to help improve appearances in such cases, but it is not merely a cosmetic dentistry solution. You see, Invisalign will also help boost your oral health and help you to avoid unwanted dental issues further down the road. In today's post, we'll take a closer look at the program, including the health benefits we just alluded to, but we do have a spoiler alert for you: right now, we're making it easier than ever to get started with orthodontic work in Plano, TX.
This month, you can take advantage of our Free Orthodontic Consultation (which is applicable for either our special "invisible" ceramic braces or our Invisalign clear aligners) that will save you $120 right out of the gate. Plus, we have a unique referral program in place that can really help cut your costs. Here's how that works: each new patient you send us that is moving forward with treatment counts as one entry for you. At the end of the promotion (07.01.2019), a drawing will be held. And the winner gets a $500 credit towards any treatment of their own. How nice is that?!
Keep reading to hear more about the possibilities of our Invisalign clear aligners, and then be sure to get in-touch with us to request your orthodontic consultation with Dr. Dickson. All you have to do now is call us today to make that happen.
The Advantages Are Clear
Invisalign performs similar work to classic metal braces. That said, it takes an entirely different approach to resolving your orthodontic issues. In fact, Invisalign does away with the need for metal brackets and wires completely.
This modern smile-shifting method makes use of a series of clear plastic aligner trays that are simply switched out at home by you every two weeks over a period of about 12 months. Obviously, the duration of your treatment will depend on the extent of your needs when we get started.
Regardless, if you are deemed to be a good fit for this program, there won't be any in-office adjustments required or the typical 2-3 years of treatment that goes along with regular metal braces.
More than that, these completely discreet aligners will be harder for onlookers to detect and, by all accounts from recent patients, they are extremely comfortable to wear. It stands to reason that sInce there are no metal components, there likely wouldn't be any mouth sores or bleeding over the course of treatment.
We almost forgot to mention that the Invisalign aligners are also removable which allows for more menu options. You won't have to avoid anything you love to eat for fear of them getting stuck in your gear. What's more, cleaning your gear is as simple as running the aligners under warm water (you just keep brushing, flossing, and rinsing, as usual). No special tools!
All of this sounds pretty close to perfect, right? It is perfect for so many folks out there who might otherwise never get around to addressing the cosmetic concerns related to crooked, crowded, and gapped teeth. But would like to remind everyone reading this post that Invisalign also guards your oral health, too, especially when it comes to the following issues…
Crowding
Crowded teeth don't look appealing, but they present more than a cosmetic challenge. Living in such a state can actually encourage the onset of decay and disease.
This is because teeth that are unusually close together are hard to keep clean. As such, bacteria is given more opportunities for escaping your brush and floss. Plaque can build up and cause inflammation and infection once it slips below the gumline. This can result in tooth loss and worse if the bacteria gets into your bloodstream! While we can help you navigate the restorative dentistry process, it is always better when you never have to discover such things firsthand.
Gaps
Again, there are reasons for not loving those unseemly gaps. But here's the real problem with them: your individual teeth will not be protected as they should be by the surrounding teeth. This increases the risk of your teeth loosening up, and so forth.
Overbites
Having an overbite can place unwanted stress on your teeth and lead to worn-down or cracked teeth that will need to be repaired. Why take the risk? Invisalign can easily prevent this and other bad things from happening in your mouth. Haven't you heard enough?
Call About Our Invisalign Summer Promotion!
We hope you have been inspired by the possibilities of Invisalign clear aligners and our special summer orthodontic promotion. As you'll soon discover, at our office, we firmly believe that high-quality quality dental care shouldn't break the bank. Call My Dentist in Plano, TX today or fill out our online form to schedule an easy appointment. If you are a student or a teacher, there couldn't be a better time than summer vacation to put the transformative wheels in motion!